Sterling Golf Welcomes
Youth on Course Program
Sign Your Child Up Now!!!
It's So Easy – All Youth Pay Only $5 to Play Sterling Golf Courses Each Round
This page was created for parents and youth to explain how the programs works, the benefits, how to get started and to promote the participating courses
This is the start page for the registration process. Upon completion of registration, a confirmation email will be sent to each youth or adult with the youth being assigned a GHIN number (and be able to start posting scores), be required to complete an online curriculum on basic course etiquette, rules of golf, etc. and then be able to print out a temporary membership card (which should be presented to your pro shop staff upon check in and before heading to the tee):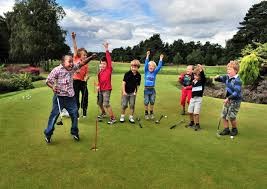 Over 20 courses to choose from locally. It is $25 registration and only $5.00 per round after that. This is the best golf program for children ages 6-18 ever created.
Sterling Golf Management is proud to participate. Check out our courses for times and days available:
Simply Check our courses Website for daily times of Availability